In my last newsletter blurb, I spoke about my opportunity to visit the Holy Land of Israel with the School of Faith ministry. Thank you all for the prayers. Many of you had also reached out with prayers and intentions. We took all of these and placed them on all the Holy Sites. The experience simply put was life changing. Being able to visit all the sites that Jesus and His mother Mary lived and preached was amazing. The gospel readings and Mass will never be the same. I wanted to share with you what I took from this experience and let you know what future plans I have in spreading this gift to others. Although there were many lessons learned from this experience, the most important is that God is real and He loves us. He has also challenged us to share his teachings with others. We are a faith that is in trouble. Starting in the Middle East and spreading across Europe to the United States, God is being forgotten about and set aside. Through our schools, politics, laws and communities, we are not only ignoring Him, we are actually disrespecting Him. He suffered and died for us. We must understand that. What can we do? That's a question I had answered on this pilgrimage. Pray the rosary, stand up and defend Jesus, and proclaim his love for ALL. Mary will win this war on our faith, but we must do our part. I am reminded of judgement day. When God comes back what side of the line do you want to be on? Have you done enough to be given the eternal gift of heaven?

In bringing this back to HTS, we must love our school and our community. Attending Mass and having a personal relationship with God is a huge part of earning eternal salvation. The Eucharist is the closest way we can commune with God. Why would we not what that? Make Mass a priority and pray as a family. Take at least an hour out of your day for God. The devil is working hard to keep us busy in our lives and give us excuses for not attending Mass and praying daily.

Thank you again for choosing Catholic education. Having a Catholic education is more important than ever in these times. We have to educate our children and prepare them for the temptations of the world. If you have not already registered for next year do so ASAP. We have an incredible school with many resources that prepare our students for success. If our numbers decline, we will have to make decisions that may affect that level of support. Get out there and spread the good news to others. Share with them the gift that HTS is. Welcome them and have them contact us.

Make your faith your #1 priority. If you do this, you will be rewarded.

To conclude, I wanted to let you know my plans for the school after this experience. Many may know we have several staff who have been to the Holy Land. We will be working on curriculum for the classrooms that take the pilgrimage information and pictures and couple that with prayer and small group sharing. More information will be coming.
We are very blessed to have an incredibly faithful community here at Holy Trinity. We must all do our part to prioritize this in our lives and strive to be better Catholics working towards the ultimate goal of heaven.
God Bless,
​Mr Merfen
---
​HTS Calendar
Thursday, February 14 ​ DRESS DOWN DAYFriday, February 15

---

---

Monday, February 18

NO SCHOOL

Tuesday, February 19

NO SCHOOLWednesday, February 20Friday, February 21

Tuesday, February 26Wednesday, February 27

8:15 AM 4-6 Mass
7-8:45 PM Confirmation Sponsor/Child Meeting - Quigley

Thursday, February 28

SPIRIT WEAR DAY
**Bring $1 to participate in wearing HTS Spirit WearFriday, March 1 Kindergarten Round-Up - NO KINDERGARTEN CLASSES

Tuesday, March 5

1:00 PM Willy Wonka Assembly Grades K-3
7:00 PM Willy Wonka Performance - gym

Wednesday, March 6

Thursday, March 7

1:00 PM Willy Wonka Assembly Grades 4-8
7:00 PM Willy Wonka Performance - gym

Friday, March 8 NO SCHOOL
---
---
Dear Holy Trinity Friends and Families,
​
The HTS 2020 graduating class is creating a custom cookbook featuring favorite recipes from our parishioners. These cookbooks will be professionally published and are sure to be a treasured keepsake for all. Cookbooks will be sold for $20 and money raised will be used for 8
th
Grade Graduation and Festivities.
Please submit 3-5 of your favorite family recipes so you can be represented in our cookbook. Lots of tried and true recipes from our congregation will ensure a cookbook success!
We have ONE month, the month of February to easily submit recipes online. Recipes are due
Thursday, February 28, 2019
. Please submit your recipes by
February 28
so we can meet our deadline. We don't want you to miss out!
To submit recipes online:
*Go to
www.typensave.com
and click "Login".
*Enter Username: 2020Mustangs
*Enter Password: cucumber20
*Enter your name and click "Continue".
*Click "Add Recipes" to begin adding your recipes.
Please email with questions at
2020Mustangs@gmail.com
You can also reserve a cookbook by emailing us with the number of cookbooks you would like to receive.
Thank you!
Vicki Ryan and 8th grade Committee
---
---
---
Teacher Feature
Brought to you by the Yearbook Students...
---
Clubs
​
​BSA Troop 181
Are you ready for outdoor adventure? Troop 181 of Holy Trinity invites any boy from 5th grade on up to join them. This scout troop has monthly adventures that range from backpacking to canoeing and climbing to caving. They are starting their new scout year and would love to show you what Scouting has to offer. Join them Monday, March 11 at 7pm in the Quigley center. Questions? Contact John Whiteside at
jbwhiteslenexa@gmail.com
or 913-492-7322.
---
---
Other News
Powered by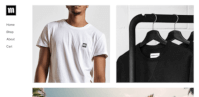 Create your own unique website with customizable templates.